Nov

19
Tags
Related Posts
Share This
6 Super Hair Tips
Learn these Super Hair Tips to turn your hair from ordinary to super!
Whether you want to look great for a party and have all afternoon to get ready, or just want to smarten up before a meeting, there are things to do to get your hair looking great and give your confidence a real boost.
Super Hair Tip Number 1:
Shampoo properly. You should invest in a top quality salon shampoo that matches your hair type, if you have colored hair, make sure that the formulation of your shampoo is suitable, likewise if your hair is thin, greasy, blonde, or brunette, talk to your stylist, and get them to advise you on what they think is best. Too many people simply pick something off the supermarket shelf and home for the best, when what they really need is a shampoo that suits them. Now most popular shampoos are sulfate free shampoos. They will save your color and prevent hair from drying. If you do color your hair, make sure your shampoo is sulfate free. It used to be only salon quality, but now even in the grocery store you may find sulfate free shampoo.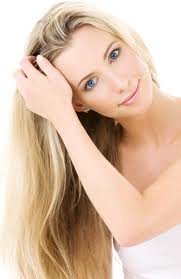 Super Hair Tip Number 2:
Condition your hair deeply. Hair conditioners have a formulation that will add body and shine to your hair. You know how uncomfortable and scratchy clothes are if you don't use a fabric conditioner, well hair is the same. Also, a good hair conditioner will help to keep your hair static free, which will reduce frizziness even more. Massage your hair conditioner from root to tip and leave it to work its magic and make your hair look really healthy and shiny before rinsing it thoroughly. Most popular now are deep conditioning masques or treatments that you leave on your hair for at least three minutes and it deeps condition your hair. Even if you are using regular hair conditioner, wait for 2-3 minutes before rinsing it out helps to make sure hair conditioner is deeply penetrated into your hair.
Super Hair Tip Number 3:
Dry your hair well. Modern hair dryers will not harm your hair as much as they used to, but if you are going to use a blow dryer to get your hair dry quickly, make sure you keep it moving over your hair and dry it evenly to avoid overheating. If you have the time, use the dryer on a cool setting to avoid damage.
Use a good Serum. There are a huge variety of great products around that are designed to smooth your hair. Most salons will be able to point you in the direction of a serum such as Frizz-ease that will help to keep your hair looking great. Generally hair serums work in three ways, by relaxing the hair, smoothing it, and reducing the potential for it to attract the static electricity that will cause it to frizz up. We recommend to use Kerostase. This is expensive and good salon line that proved to work and you can find super serum for your super hair.
Super Hair Tip Number 5:
Use good quality hair straighteners. Most people find that the cheaper hair straighteners do not do a very good job. You might find that they do not get hot enough to iron out the kinks properly on a single pass, and are not slippery enough to allow your hair to pass through smoothly. Opt for ceramic or glass heating plates, and make sure that there is an adjustable temperature. GHD straighteners are the one of the most popular brands around and ae commonly used in salons all around the world. Their plates get hot fast, and are extra smooth to make styling your hair easy, all of which makes them a real favourite in salons around the world. Ceramic plates will help discharge the static electricity from your hair too, and leave it looking straight for longer.
Super Hair Tip Number 6:
Eat well. Your hair is nourished by what you eat and drink, and will never look good if you don't eat a balanced diet with lots of vitamins and minerals. Hair is mostly made of protein, so make sure your diet includes plenty. Drink water too, as this will flush impurities out of your body and keep you healthy. Most important things in your diet for super hair should be protein, Vitamins E and A, Folic Acids and food, containing Biotin.
Good luck with super hair tips to make your hair "super"